Medical Spa Services
[frame type="left" width="250″ height="155″ src="https://vitalki.com/wp-content/uploads/2012/05/image-medical-spa-2.jpg"]
At Vital Ki Natural Health And Beauty Centre we offer a variety of medical spa services which on their own will leave you feeling or looking great and when combined will help rejuvenate you and make you look and feel like you never have been.
Treat yourself to a natural and wholistic spa experience at Vital Ki, you owe it to yourself to look and feel your best both inside and out!
Our natural medical spa services include:
Anti Aging Treatment
Acne Treatment
Acne Scar Treatment
Body toning
Breast toning
Cellulite Reduction Treatment
Drainage
Light Therapy
Pale skin
Pigmentation
Rosacea Treatment
Scar Treatment
Stretch Mark Treatment
Rejuvenation
Impure skin
Face moisturisation
Face toning
Wrinkles and fine lines
Synergica Machine for Cosmetic Face & Body Reshaping
Indications are:
Impure skin
Face moisturisation
Face toning
Wrinkles and fine lines
Pale skin
Drainage
Pigmentation
Cellulite
Body toning
Breast toning
Stretch-marks
Programs are:
Preparatory Cleaning
Moisturising Face
Face Firming
Vitaminic Anti Age (with FRUITS)
Drainage
Pigmentation
Cellulite
Body Toning
Stretch marks
Breast Firming
Pressure point
Fat and Cellulite Reduction Program
How does this Fat Reduction Treatment work?
This powerful, safe and effective program is designed to accelerate your weight loss, burn more fat and reduce cellulite. It releases lymphatic blockages and stimulates blood flow; it effectively targets stubborn localized fat deposits, reshapes and redefines the body by encouraging fat elimination in both men and women.
The program consists of the following:
• Full assessment, health history and clinical record
• Vibration Machine (optional)
• Infrared lamp
• Synergica machine fat breaking and drainage
• Lymphatic Drainage recommendations
• Weight management recommendations, and Detox awareness
• Weekly follow-up nutritional journal, measurements
• Recommendations of herbs/supplements to help speed-up your metabolism
• Supplements recommendation depending on condition
• Additional emotional/psychological support for your program
Full assessment, health history, and clinical record and consent form: This form will provide the practitioner with a base understanding of your actual health and will assist in giving you the care and treatment suitable for your condition. Advice if you are pregnant, have any heart issues, thyroid issues, have cancer, broken bones, or other injuries or health conditions. It is very important that you communicate all your health issues.
Vibration Machine:
Stimulates and flushes the lymphatic system, and other benefits such as:
• Increase metabolism / burn fat
• Tone and firm muscles
• Stimulate the lymphatic system
• Decrease cellulite
• Improve circulation
• Increases muscle strength, flexibility, range of motion and mobility
• Accelerates metabolic rate, burns fat and reduces cellulite
• Improves circulation and increases blood oxygenation
• Decreases level of Cortisol (hormone released when we're under stress)
• Increases bone strength and density
Infrared Lamp:
Reduce Fat/Cellulite: Cellulite is essentially pockets of water, toxins and fat being held under the skin you can target these pockets with infrared waves, and the waves will heat your body under the pockets and actually force the water out through your pores and eliminated the pockets and therefore the cellulite. Infrared also detoxifies your body and improves the health of the immune system.
Synergica Machine Fat breaking and Drainage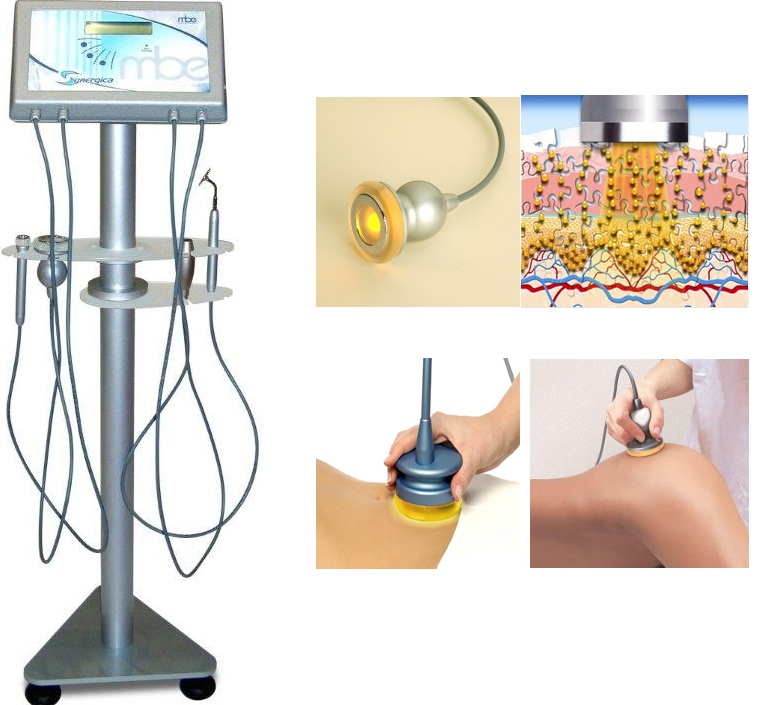 This powerful treatment releases lymphatic blockages and stimulates blood flow, while the light warms-up the tissue to stimulate fat release, the machine treats the deeper fatty layers, working them intensely and encouraging lipolysis (fat depletion).
The Infrared heat in the Machine further increases collagen production, and does not damage the skin tissue or the capillaries.
The machine is conceived with 11 different programs which are different for every single indications. They are different for: intensity, electrical impulses, light impulses and duration.
The name of the machine is due to the synergy between energy and light which are at the base of the methodology of our new SYNERGICA.
[frame type="center" width="461″ height="91″ src="https://vitalki.com/wp-content/uploads/2012/04/synergica-2.jpg"]
The Synergica Multicolour unit was created as an apparatus for the penetration & absorption of active principles in Meso-Aesthetics. It utilizes the newest advances in & potentials of electroporation, electrokinetics, electro-osmosis and chromotherapy. The action & effectiveness of these techniques as biotransportation methods are based on conclusive scientific studies regarding electroporation and electro-osmosis. Synergica,
a) achieves improved skin permeability and
b) encourages (drives) the absorption of agents into deeper layers of the dermis.
Basic Principles:
[frame type="left" width="268″ height="185″ src="https://vitalki.com/wp-content/uploads/2012/04/synergica-3.jpg"]
The principle behind the Synergy Machine is:
Ionic Stimulation (or Electroporation)
Ionic stimulation is an electrotherapy technique that uses an electric field to help penetrate the skin. At the same time it encourages exchanges between cells, normalises connective equilibrium and increases biological and enzymatic processes.
In practice, the bio energy in the body's cell exchange systems is used to treat the skin in a completely physiological manner.
This is because the electric field increases the dynamism of the ionized and polarized flows as well as triggering and improving metabolic tissue regeneration.
Recent observations have established that ionic stimulation encourages the transfer of neutral substances into the skin layers.
This is helped by the electro-osmosis phenomenon that accompanies this kind of application.
Electro-osmosis is a similar phenomenon to osmosis and involves transferring a substance through the porous septum of a liquid thanks to the difference in potential between the two faces of the septum.
Another important contribution to the improvement of the exchange action produced by our ionic stimulation treatment is the vasodilatation effect induced by the electric handpieces used.
The channels that the cosmetic substances generally choose to penetrate the skin are gland ducts, piliferous channels, pores and the spaces between the cells.
Chromotherapy
As amber derives from yellow and red, below is a description of the beneficial effects and variations that this colour, chosen for Synergica unit, has on the skin system and the energy-giving interstructural system.
Yellow
In beauty treatments, yellow has many important and efficacious functions.
It brings strength and harmony to the central nerve system, and can therefore be used on all paravertebral areas with a consequent positive effect on all the organs situated at the front of the body such as the stomach, intestine and bladder. It also has a detoxifying effect on skin tissue and is particularly suited to all kinds of skin suffering from asphyxia, impurities or acne.
On the body it is ideal for the treatment of both fibrous and edematose cellulite accumulation.
Red
Red has stimulating, energising effects on both blood circulation and the entire sensory system. As a result red is particularly suited to the treatment of poor energy levels. In the field of beauty treatment it is used for its hyper-hematizing and toning effects. In cases of both skin and body vasodilatation we recommend the use of an electrode with an amber light in the areas around lymph discharge. This reduces problems such as teleangiectasis, rashes and couperosis.
From the observations made above, it is evident that an amber light can be highly efficacious for a wide range of skin flaws on both the face and body.
Amber is a fusion of colours that is particularly suited to equipment such as the Synergica unit, which successfully treats the most common skin flaws such as lack of firmness, wrinkles and stretch marks as well as thoroughly cleaning the skin.
NEW!!! – INNOVATIONS BROUGHT TO THE UNIT
It is our pleasure to highlight the great success this unit gained all over the world and we are glad to inform you that further innovations have been made. In particular:
New transparent handpieces
Light intensification
New fruit jellies to work with
New trolley
It is a small and compact unit which, as previously said, combining electroporation and biostimulation, is able to give wonderful results both on the face and body.
The pulsed light has been intensified, so it is more effective and visible while the unit is working.
This device is the only machine which can work with fresh fruits on face and body thus performing a real vitaminic treatment.
In consideration of the huge success obtained when working with fresh vitamins directly from fruit, we have formulated a series of new "tasty" jellies based on fruit properties and vitamins which can be flushed into the skin thanks to transdermal delivery.
These jellies, which exploit the active principles contained in the fruit, have been properly formulated to act in combination with the special current used and there is a choice of fruit flavours, which can be selected depending on the skin flaws to be treated.
Working with these new jellies is like applying a fruit concentrate onto the skin and the results are immediate.
Last but not least, in order to make the unit more comfortable and practical, it has been equipped with a very attractive trolley with a special hand piece holder.
This new trolley is light, easily movable and very steady, in order to facilitate once more the work of the beautician.
Conclusions
Being a synergy between ionic stimulation and monochromatic chromotherapy, the Synergica deserves the name of CELLULAR ACTIVATOR!