Introducing the Vital Ki Team!
Angela M. Tobón, R. Ac.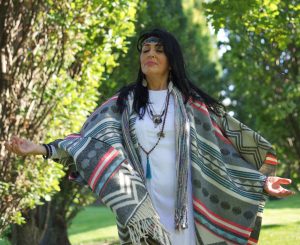 Angela Tobón is a Registered Acupuncturist, a leading Spiritual Master, Transformational Guide, Mentor and Teacher.  She is an Alchemist in constant evolution, Pleiadian Light Worker1 and a Reiki Master/Teacher.
The embodiment of her own mastery has her fully committed to her calling of providing safe and sacred space to supporting people on their journey of healing, self discovery, and evolution.
She is the founder and co-creator of Vital Ki Wellness established in 2007 and Vital Ki Institute of Holistic education established in 2013, which centres around bringing together ancient and modern healing modalities of various lineages to serve and teach others.
She has worked and learned with several world-renowned masters, authors, teachers, and shamans. Such as Dennis William Hauck, her linage Reiki Master, Mikio Sankey, Sacred Geometry Master, Adama Hamilton, Pleiadian Master Teacher, Ramon Alvaro, Amazonian Shaman, and learn from the teachings of Spiritual and Esoteric leaders such as Carlos Castaneda, Don Miguel Ruiz, Wayne Dyers among others.
Over the years Angela has merged her teachings from her heritage, back home in Colombia, with many modalities inherited and learned throughout her life.
She has created the Vital Ki Certification Meditation Teacher Training Program, many holistic workshops, courses, and mentorship programs that she has been sharing for many years.
To continue evolving and transcending is very important to Angela as to this day she continues on her path of her own Inner Alchemy work and ascension.
Recently going back her roots in South America in the Amazonian jungle, where she spent several challenging and expanding months training deeply 1 on 1 with Shaman Ramon Alvaro of Kichua Lineage. Angela was trained in working with Sacred Cleansing and Purifying Native Medicine Plants.
Angela continues to devote her time and energy to her calling. She is a guardian and a supporter of conscious and spiritual teachings.
She works with other international leaders to create healing retreats, ceremonies, and programs around the world.
Angela is honoured and committed to her calling. She shares wholeheartedly and intuitively the tools, practices, modalities and wisdom that she has discovered and experienced from her masters and peers so we can all band together to help raise the vibration of the planet with love, kindness, compassion and good energy.
Certification,  Credentials & Practices:
Registered Acupuncturist
Pleiadian Lightworker1
Reiki Master Teacher Degree – Mastership in the Usui System of Natural Healing
Practices Shamanic Soul Healing
Practices Sacred Geometry
Practices Sound Therapy Healing
Practices Pranic Healing
Teacher at Vital Ki Institute of Natural & Holistic Healings
Guided Meditation Teacher
1."Pleiadian Lightwork is the name given to the healing, spiritual activation, and ascension techniques which are part of the Dolphin Star Temple Mystery School. Trainings created by Amorah Quan Yin through Full Sensory Perception (FSP) and other courses."
Angela acquired the FSP training through a magnificent master, Adama Hamilton who was the first student to totally complete Amorah's training and apprenticeship program becoming her very first certified PLI and FSP instructor. 
Dane Osorio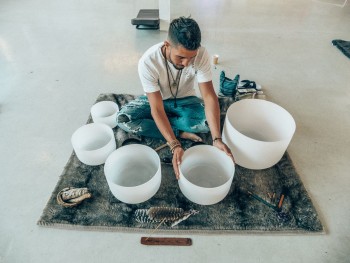 Co-Owner & Director, Healing Artist
Dane Osorio is a hard working Entrepreneur and Healing Artist who started off in the work force in Construction and opened his own Renovation Company in his early 20's. With his new business growing and expanding he simultaneously decided to follow his heart and partnered up with Angie Tobon in the totally different industry of Health and Wellness where his passion truly lays. Dane constructed the first location of Vital Ki Wellness Center in 2007 in Market Lane, Woodbridge.
His passion lays in helping people, bringing an awareness to the importance of good health and well-being, preventing illness and maintaining good health. Dane has furthered his education in this area. Now at 33 years old he has obtained a few credential under his belt. A Certificate in Osteopathic Manual Practice, Completed  Level 1 of Fascial Stretch Therapy, has become a Reiki Master after being an apprentice to his Reiki Master for nearly a decade. He has completed Module 1-3 of Guided Meditation and is now a Guided Meditation Facilitator/ teacher, and completed a 200 hour Yoga Teacher Training certified by Yoga Alliance.
Dane's vision is to continue to contribute his time and devotion to connecting and helping people to healing and bringing wisdom, awareness, unity, value to health care,  healing, collective evolution, and Universal Love in all aspects, the physical, mental, emotional and spiritual.
Dane Osorio is a member of:
Ontario Osteopathic and Alternative Medicine Association
Angels of the Earth Interfaith Community
Florestral Community (Costa Rica)
Conscious Divine Masculinity Toronto
Conscious Community Toronto
Soul Movement Community
Yoga Alliance
Light Warriors of the World
Certification & Credentials:
Co-Owner and Director of Vital Ki Natural Health & Wellness Centre
Co- Owner and Director of Vital Ki Institute of Natural and Holistic Education
Reiki Master  – in the Usui System of Natural Healing
Certified Osteopathic Manual Practitioner
Certified Fascial Stretch Therapist
Yoga Teacher (200 Hour Training)
Licensed Wedding Official – AEIC Weddings Province of Ontario
Angie Savatti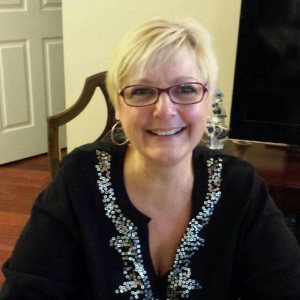 Office Manager
Vital Ki's behind the scenes, back bone of Vital Ki since 2007, Book Keeping Specialist!
She brings years of experience and a lot of value to our Wellness Centre, practitioners and patients/clients.
We love her energy and order behind the desk and are so lucky to have her on our team!