Felling Fatigued, Lack of Motivation, no Energy?
Let me introduce myself, my name is Angie Tobon, director at Vital Ki Natural Health & Beauty Centre, as a healthcare practitioner I have seen more and more over the years an increase depletion of energy and an alarming dependency on "Quick Fix Solutions" to these conditions.
The so called "Energy Drinks" that promise to keep you going for hours, the consumption of too much sugar, coffee, a shot of espresso and so on; are influencing our bodies in a very negative way.
For instance Adrenal Fatigue can be linked to the after excess consumption of caffeine and sugar making people more tired because the body's adrenalin system has become strained by constant high caffeine and sugar intake.
It is very important to pinpoint a safe dose of caffeine intake that is best for you; since the effect of caffeine varies from person to person and according to a person's tolerance . Higher dosages of caffeine and other energy drinks can also lead to other health conditions such as"
Allergic reaction, Difficulty Breathing, Dizziness, Frequent urination, Gastrointestinal disturbance, Headaches, Heart palpitations, Increased blood pressure, Insomnia, Irritability, Jitters, Nausea, Nervousness, Severe Fatigue from Withdrawal.
You may feel a lift from the energy drinks, but it is a short term, once the effect is gone you may feel even more tired. What you really need is a natural flow of pure clean energy that works fast, lasts long, and has positive effects on your health.
Consider the following Holistic Techniques and formulas in the search of Energy!
Yoga & Meditation: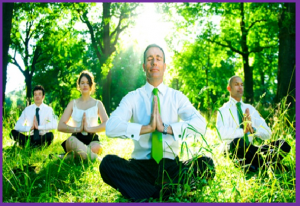 Yoga and Meditation has been proven to improve energy in the system. For people suffering from lack of energy, and chronic fatigue Syndrome, the combination of Yoga exercises and breathing Meditation techniques put you in touch with an unlimited source of energy that lies within you bringing a true sense of balance and preserved energy. The most important component of these modalities is that it offers a combination of techniques to remove worries, uncertainties, tensions and frustrations and gives the right understanding of the purpose and meaning of life.
Unlike many exercise programs, Yoga and Meditation practice does not take energy away from the system; instead, it energizes the entire system.
Natural Products: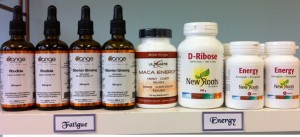 • Rhodiola: Helps to reduce stress and fatigue and enhance physical endurance.
• Siberian Ginseng: Helps to improve mental and physical performance .
• Maca Energy: a root from Peru that offers an amazing energy boost for those suffering from fatigue , and low energy. Maca is a nutritionally dense super-food that contains high amounts of minerals, vitamins, enzymes and all of the essential amino acids and it offers energy in a non-caffeinated way that supports the body
• D-Ribose: with the active ingredient ribose, helps maintain your body's core energy and keeps it fully charged. Though your body produces ribose naturally, it does so slowly. Taking supplemental ribose helps ensure adequate levels in your body to optimize its effect on restoring and maintaining healthy energy reserves. Taking Corvalen may also help reduce muscle stiffness, soreness and fatigue that results
Note: Please consult your doctor or health care practitioner before taking any of these products.
References: New Roots;  Can-Prev.;  The Mayo Clinic; The National Institutes of Health