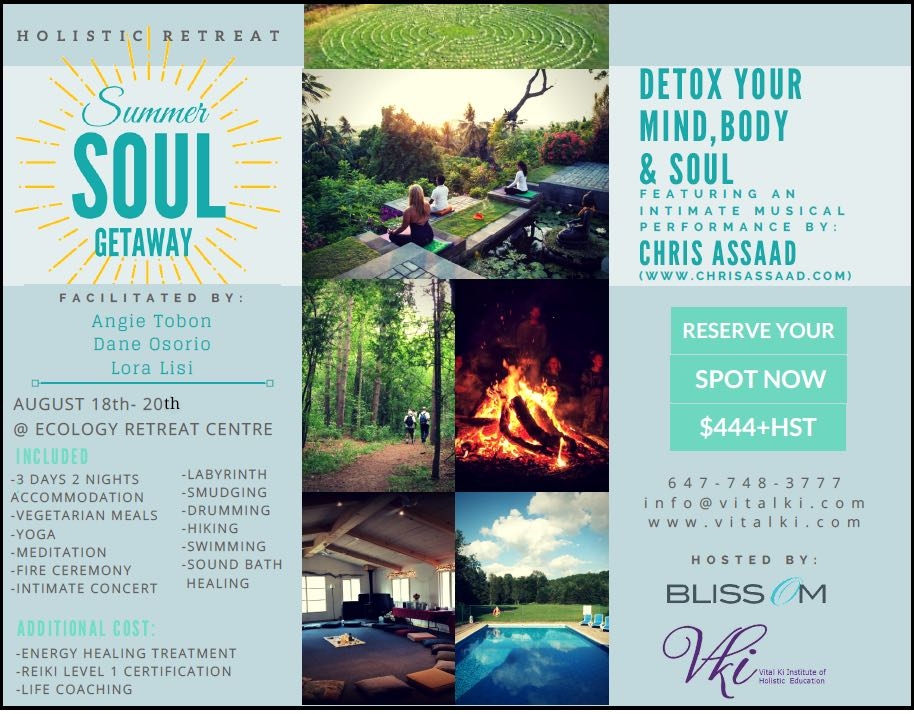 2017- SUMMER SOUL RETREAT GETAWAY
Detox your Mind, Body & Soul
August 18,19 & 20
Facilitated by: Angie Tobon, Dane Osorio, Lori Lisi
Join us at our first Summer Soul Getaway with BlissOm and honoured guest performer Chris Assaad.
Held in the idyllic setting of Hockley Valley.
This detox weekend will refocus and rejuvenate your mind, body and soul Relax, Renew & Replenish.
Ground and connect yourself to your fullest potential!
INCLUDED:
-3 days, 2 nights accommodations
-Vegetarian Meals
-Nutritious Snacks
-Yoga classes
-Guided Meditations
-Reiki Meditation
-Sacred Geometry Meditation
-Fire/Dance Ceremony
-Intimate Concert
-Labyrinth
-Smudging
-Sound Bath Therapy
-Zen Nature meditation walks/Hikes
-Swimming
-Wellness Workshops:
*Four Agreement Workshop (Teaching of Don Miguel Ruiz) Don Miguel Ruiz reveals the source of self-limiting beliefs that rob us of joy and create needless suffering. Based on ancient Toltec wisdom, The Four Agreements offer a powerful code of conduct that can rapidly transform our lives to a new experience of freedom, true happiness, and love.   "In the tradition of Castaneda, Ruiz distills essential Toltec wisdom, expressing with clarity and impeccability what it means for men and women to live as peaceful warriors in the modern world." -Dan Millman, Author
*Chakra Workshop (Find where in your Energy System you are leaking your Energy)   As we become aware of our inner fields of Energy and higher levels of consciousness we then begin to understand the importance of keeping our energy and vibrations high.
Additional Cost:
-Life Coaching
-Energy Healing Treatments
-Relaxation Acupuncture
-Cosmetic Acupuncture
-Massage Therapy
-Open the Meridians with Osteopathy and Fascial Stretch Therapy
-Reiki Level 1 Certification
Click the link below to hear Chris Assaad
https://soundcloud.com/chrisassaad/into-the-light
Click here to see the Ecology Retreat Centre
http://www.ecologyretreatcentre.com/
Register before July 7th $444.00 plus hst
Register after July 8th $475.00 plus hst
Registration will close July 31st, 2017
info@vitalki.com or 647-748-3777
&nbsp