OCTOBER RETREAT – ONTARIO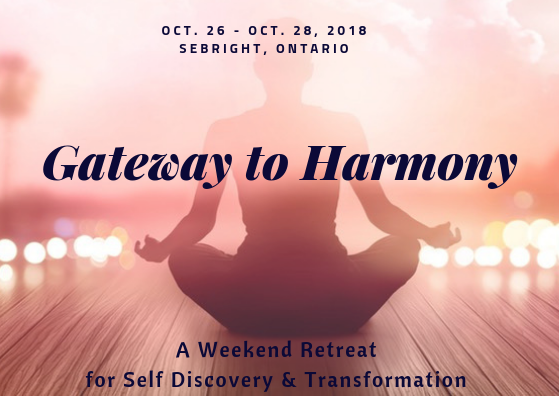 Friday October 26th to Sunday 28th  
Join us for a Holistic Retreat that will empower you to reconnect and realign with your spirit, tap into your inner wisdom, and prepare you for true and transformative healing of the mind, body and spirit.
Facilitated by: Angie Tobon, Dane Osorio and Anna Gala
At this retreat you will be guided through and empowered by Holistic workshops and teachings on:
Workshop on how to better manage Depression and Anxiety
Workshop on Toltec wisdom and EQ (Emotional Intelligence)
Sacred Geometry and Sound Healing for relaxation and raising your vibration
Realization and releasing of blockages and limiting beliefs
Mindset Re-patterning to increase clarity and positive perspective
Learn to understand ground and balance your energy centres
Meditation for Calm, Connection and Cultivation
Expansive and Gentle Movement/Yoga (non vigorous)
Conscious Eating (Nourishing your body with High vibration foods)
Mind, body and Spirit Connection
High vibration meals
Our Retreat Objectives:
To provide you with a unique and well rounded weekend to connect to your true self, for alignment, peace and to help you raise your vibration. To work on the mental, emotional, physical, spiritual and  soul to help you Harmonize.
Enjoy several holistic practices workshops, gentle movement (yoga), sound healing meditations, connecting with open/like minded and open/like hearted people, conscious talks and discussions, and nourishing delicious high vibe food.
You will given the space and opportunity to break through blockages, release patterns that are not serving you, receive healing and guidance for deeper connection with yourself.  and an active holistic and spiritual life. Gain tools to take with you to practice in your everyday lives for a better you and a better life!
What's included :
– 2 nights shared accommodations
– All Delicious High Vibrational Healthy meals
– Time to unplug, rest and relax
– Workshops
– Holistic Practices
– Conscious talks and connections
 
Not included:
-Transportation
-Holistic private sessions treatments
Arrival Time:  Friday afternoon or evening
Departure Time:  Sunday after 4pm
Your Retreat Facilitators!
Angie Tobón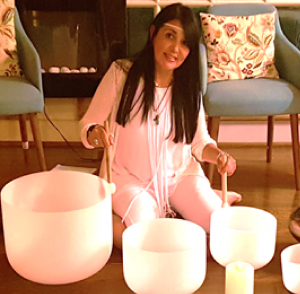 Angie Tobón is a Registered Acupuncturist and practices Energy Medicine; Pleiadian Lightwork1 with several other modalities inherited and learnt, which she uses as tools to help restore the body, soul, mind, and spirit vital energy.
Angie's vision is to continue to evolve and connect to higher levels of consciousness; she wants to assist those seeking to evolve as well.
Angie will be guiding beautiful meditations, Leading holistic workshops and holding space with her essence, wisdom, guidance and love.
Through her Pleiadian Lightwork1, Reiki, Sound Healing, Sacred Geometry, Esoteric Acupuncture and Guided Meditation will help heal the Soul, align and balance cosmic energy and spirit.
Also available are private sessions of any of her modalities to be booked in advance (extra)
which include:
Pleiadian Lightwork1, Acupuncture, Reiki, Esoteric Acupuncture, Sacred Geometry, Pranic Healing and more.
1."Pleiadian Lightwork is the name given to the healing, spiritual activation, and ascension techniques which are part of the Dolphin Star Temple Mystery School. Trainings created by Amorah Quan Yin through Full Sensory Perception (FSP) and other courses."
Angie acquired the FSP training through a magnificent master, Adama Hamilton who was the first student to totally complete Amorah's training and apprenticeship program becoming her very first certified PLI and FSP instructor. 
Dane Osorio,
Healing Artist, Co-owner of Vital Ki Wellness Centre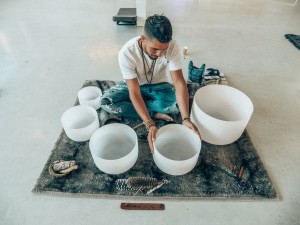 Dane's vision is to continue to contribute his time and devotion to connecting and supporting people on their awakening and healing journeys.  The focus of his practice and service is to provide and hold space, share healing arts, holistic practices
With a few Retreats under his belt as a creator and facilitator, Dane is geared up to support you on a journey of a lifetime!
Enjoy his intuitive gentle slow flow Yoga class that will have you feeling light and rejuvenated, and ready to take on the day on a higher vibration! Dane will also be holding space, offering Sound Healing with the sounds of Magical Crystal Quartz Singing Bowls.
Also available for  private sessions  (extra) which include:
Reiki Healing, Chakra Balancing, Sound Healing, to be booked in advance.
Anna Gala,
Life Empowerment Coach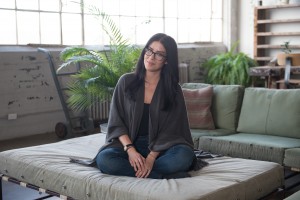 Anna, a Self Empowerment Coach, is a Certified Meditation Facilitator, Energy Healer, and Psycho-Spiritual Life Coach, with Self-Development and Mindfulness practices being an integral part of her life. Through her own battle with anxiety and years of inner struggle, Anna embarked on a healing journey which has led her to the path of empowering others to discover their innate ability for inner-healing and self actualization. Anna's mission is to help as many people as possible find fulfillment, joy and inner peace… because life is meant to rock!
Anna will be leading a workshop on mindset training, getting out of your head + into alignment (Ego vs Soul and how it effects Anxiety)!
Also available for private coaching sessions (extra) 
Read more about Anna and her services here! 
Retreat Location:  
Sebright, Ontario 1-1/2hrs north-east Toronto, (exact location given to confirmed participants)
NOT Included:
Transportation
Holistic private sessions treatments
Arrival Time: Friday afternoon or evening
Departure Time: Sunday after 4pm
Price and payment dates:
Investment:
$444 CDN (Plus HST)
Deposit:                            $250.00           Oct. 10th, 2018
Remaining Balance:        $251.72          Oct. 15, 2018
*Payment plan (Optional) – inquire
REFUND POLICY:
Cancellation before Oct. 10- 2018    Refund 50% of total
*No Refunds after Oct.15- 2015
*Itinerary and workshops are subject to change based on flow of Retreat.
We look forward to sharing this wonderful experience with you!
Register: 647-748-3777 or info@vitalki.com
&nbsp